In BTS, each member plays a specific role they've held since their rookie days. RM doubles as the leader of the band and main rapper. Suga is the lead rapper and songwriter. In the dance department, J-Hope is the dance leader and Jimin is the main dancer. Main vocalist Jungkook is also the maknae (youngest of the group). The eldest Jin is the face of the group.
Then, there's one more member: Kim Taehyung aka V of BTS.
During their earlier days, not much was known about his role. People outside of the BTS fandom only knew him as "just another vocalist" or "that BTS member with the boxy smile." Kim Taehyung didn't have a stand-out role in the band. No one knew he even existed at first.
He was the secret member of BTS and when he was revealed to the world, people knew him as the 4D member, aka the weird one. Together with his fellow BTS members, he faced discrimination and was cussed at more than once.
But now, Kim Taehyung has gone from the unknown member to one of BTS' prized members. Hailed as 2018's Most Handsome Face in the World, Taehyung is a sought-after star now known for his visuals, talent and unique personality. BTS' V and his net worth is no joke as the band's popularity continues to grow.
If you're looking for a unique idol origin story, V of BTS is worth your time.
The Origin Story of CGV aka Kim Taehyung
Before he was BTS' V, Kim Taehyung was the eldest of three children of a family of farmers from Geochang County. During his elementary school days, Taehyung aspired to build a career in music. With his dream in mind, he started playing the saxophone in high school. His father encouraged him to hone his skills in music, which is why he learned the saxophone for three years.
Taehyung seemed to be destined to just play saxophone until he accompanied a friend to a Big Hit Entertainment audition. Originally, Taehyung was there to support his friend's audition. However, someone from Big Hit's rookie development team saw Taehyung and encouraged him to audition.
After asking permission from his father, Taehyung auditioned on the spot. He was the only person to pass the Daegu auditions that day.
That was the day Kim Taehyung began his journey to becoming V of BTS.
Prior to his official debut, Taehyung's identity was kept under wraps by Big Hit Entertainment. In earlier videos, Taehyung expressed his struggle of watching the band record videos for future fans without him since he was a secret member. To compensate, he would record his own vlogs.
In 2013, Taehyung eventually made his debut with BTS. Debuting using his stage name V (for victory), Taehyung performed "No More Dream" with the rest of his band.
BTS' Mood Maker, Second Maknae and Beloved Member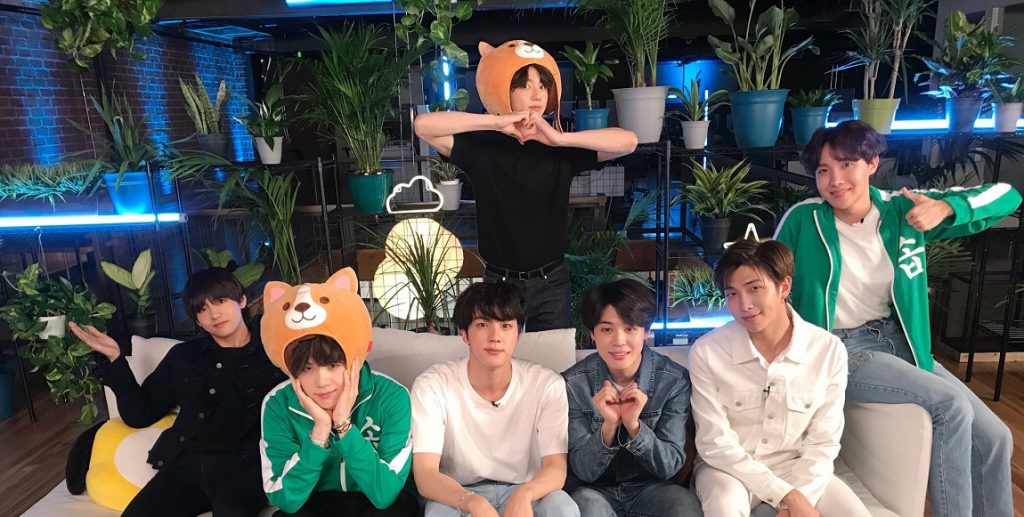 In BTS, V is the second youngest but used to act like the youngest. In interviews, the oldest members would share how Taehyung would stir trouble with Jungkook, if not on his own.
When he was younger, Taehyung was also very particular about his food. Unlike RM, who is equally picky, Taehyung used to insist on everyone eating what he's also eating, which Suga noted during one of their KKUL FM segments. He was also described as sluggish, happy-go-lucky and childish — qualities that serve as both his weaknesses and strengths.
But as he matured, Taehyung eventually adapted and respected the likes and time of his members. However, he remained supportive of his members. He would visit their solo shoots, speak well of them on interviews and hype them up on their birthdays. Behind the scenes, Taehyung would comfort members during trying times and celebrate with them, set the mood of BTS.
In terms of BTS' performance, V is one of the four vocalists. His deep baritone adds a nice soulful touch to all of BTS' songs. He complements most of the vocal line's high notes with his darker-than-chocolate-tenor voice. As for the dancing part, V is on the same level as the BTS dance line (J-Hope, Jimin and Jungkook). Have you seen his MAMA 2017 Mic Drop fan cam?
Every Idol is Weird (In the Loveliest Way Possible)
Fans who watch the band's VLIVE variety show RUN BTS! are no strangers to V's unique way of thinking. His unique perspective on things makes people ask "What is Kim Taehyung's IQ? Is it the same level as Namjoon's?" (Spoiler: it's not but Taehyung has an IQ level 142! Still an impressive number). Namjoon may be the smartest member of BTS but Taehyung is catching up to him.
From the way he swings a tennis racket to how he pretended he's a figurine to hide from his members, Taehyung is the definition of thinking out-of-the-box. If you don't know what we're talking about, try watching all the RUN BTS! episodes.
A thread of taehyung being a smart mf [ Run BTS Edition] pic.twitter.com/yWZvJWvu3i

— kth1 lockdown track (1-13) (@ACT0RTAEHYUNG) June 16, 2020
Speaking of VLIVE, Taehyung's approach to his VLIVE sessions with fans are also out-of-the-box, especially with how he talks to the fans. Although he is mostly pleasant and loving to fans, he's unafraid of calling out fans when necessary. The most notable one was when he brought up fans disliking the glasses he wore. He asked fans to not discourage him from pursuing his style and insisted he'll keep wearing what he wants.
Even on Weverse, the fan cafe for fans, Taehyung is unapologetic with his thoughts. Once, he quoted a line from the BTS song "UGH" after he was involved in dating rumors. He expressed his disgust by posting the verse "I am going to shoot a poisoned needle in the back of the neck in my dreams. Be careful with your neck." He is also honest with how much he loves his fans and how they respect him. On the same platform, he thanked the fans for letting him enjoy a quiet vacation in Hawaii with his and J-Hope's families.
In terms of talent, V's all over the place in the best way possible. He explores all the possible hobbies that he can: photography, painting, modeling, playing the violin — everything. He is also authentic with his fashion choices. If the rest of the world demands he wear skinny jeans, Kim Taehyung claps back with the baggiest artsy pants he finds.
BTS V as the Idol of Idols
Kim Taehyung is also known for being a social butterfly. If the man had a personal Instagram account, he'd most likely be followed by plenty of celebrities — locally and internationally.  In South Korea, he is friends with most of the country's notable celebrities such as Park Bogum, the cast of Hwarang, the Wooga Squad (insert Park Hyun Sik and Park Seojun with Choi Wooshik and Peakboy), Psy, BTOB's Sungjae, actor Kim Min-Jae — and the list goes on.
Internationally, Taehyung's list of celebrity friends and fans is long, too. "The Fault in Our Stars" actor Ansel Elgort even proved his fanboy status by changing his Twitter profile photo to BTS' V.  Let's not forget when actress Lele Pons asked for Taehyung's number and he gave his manager's number instead.
Does BTS Member V Have a Solo Song?
Despite working as a band, BTS members also strive to release their solo music — Kim Taehyung included. Like his members, BTS V has released solo tracks on the band's SoundCloud account. Some of Taehyung's most notable tracks include "Scenery," "Winter Bear" and "Snow Flower," the last one a song he produced with his Wooga Squad friend Peakboy. He also produced and recorded "Sweet Night," an official OST for the drama "Itaewon Class," which starred his good friend Park Seo Joon.
But as expected of Kim Taehyung, he doesn't stop at solo tracks. He wants to produce a mixtape, too.
RM, Suga and J-Hope each have a mixtape, with RM and Suga having two albums each. Like his BTS hyungs, Taehyung wanted to do the same. During a March 6, 2020 live stream with RM, V teased his mixtape but at that time, he had only written three songs — one of them being "Sweet Night."
Since then, fans have lovingly nicknamed Taehyung's upcoming mixtape "KTH1" after his real name, Kim Taehyung. In return, V tried his best to update the ARMY about his mixtape, occasionally talking about it during interviews. It wasn't until July 2020 that he posted a snippet of the music he was working on, which he deleted the next day.
In BTS's "BE-hind Story," V revealed that his anticipated mixtape will have 13 songs. However, it could have been 14 songs. During a VLive broadcast, V revealed that "Blue & Grey," a track in their 2020 album "BE," was originally intended for his mixtape. While BTS was shooting "In The Soop," the other members heard "Blue & Grey" and suggested that Taehyung contribute it to their album instead, which he did.
"Blue & Grey" was originally written in English but after hearing BTS's feedback, Taehyung worked on the Korean lyrics of the song.
In an interview with Weverse Magazine, V said that he wrote "Blue & Grey" during his lowest point. He was wondering if he could continue his work or not. Being a perfectionist, Kim Taehyung wanted to release his mixtape on time but since he wants his mixtape to be perfect, he had a difficult time knowing when to release it. His struggles were penned into words and gave birth to "Blue & Grey."
So when it comes to the release date of his mixtape, there is no official date. In December 2020, BTS V expressed his desire to release his mixtape as soon as possible. Although he has been teasing his mixtape for some time, there is a slight chance he may release it in 2021. Keep in mind, however, that BTS had just released their 2021 single "Butter," so this may interrupt Taehyung's mixtape plans yet again.
Taehyung first apologised that his mixtape is getting delayed & he explained he tried not to be burdened by it but there was no escape from the burden as in an album you can shoulder the burden with the members but since he's making the mixtape by himself. He also said he thinks+ pic.twitter.com/FuGhii2NHL

— Sel⁷ 🧈 (@BTStranslation_) February 27, 2021

It's a long wait but it's OK. He did say that he will only release his mixtape when he is satisfied with the quality so ARMY can eagerly anticipate his work of art. As he said during his BE-hind interview in February 2021, "Therefore, I don't want to say to ARMYs to 'wait for it' but 'look forward to it.'"
V's Purple Love for BTS ARMY
The term borahae or I purple you was created by Taehyung during one of their concerts. He coined the phrase during a fan club event in November 2016. Before wrapping up their third Muster, Taehyung told ARMY, "I purple you," just as the lights shaded the audience in glows of purple lighting.
https://www.youtube.com/watch?v=OUUuaAqCwSg
According to Taehyung, the color purple is the color of love. Being the last color of the rainbow, he explained that purple means that he will trust and love their fans for a long time. He admitted to making it up, but the fans reciprocated the love by declaring purple as the fandom's official color of love.
V never forgets to thank his fans whenever he gets the opportunity — on BTS's Twitter account, during interviews or at concerts . Like his members, he attributes his success to ARMY, calling them his "best friends," "angels" and their lifelong supporters. Whenever BTS achieves an award, he gives the award back to the fans, insisting they couldn't have done it without them.
On Weverse, BTS's V tries to be active whenever he can. He'd go on a comment spree, replying to as many fans as he can with the sweetest notes.
Kim Taehyung's current role in BTS is too many to mention but one thing is for sure: BTS is incomplete without the loveable and unique visual that is Kim Taehyung.