Fact: BTS (방탄소년단) are global superstars continually making waves in the music industry. The Grammy-nominated septet continues to bring down barriers by topping Billboard 100 charts, breaking 18 Guinness World Records, scoring hundreds of awards and gaining millions of fans. BTS' net worth summarizes the numerous brand partnerships, endorsements and other multi-million projects that shot RM, Jin, Suga, J-Hope, Jimin, V and Jungkook to the top.
Another fact: BTS, despite being famous, are also normal human beings that share stories online. Like regular people, BTS has a Twitter account — aka one of the many platforms where the band connects with their fans.
BTS' Twitter account (@bts_twt) is the place to be for fans who want personal content from the band. From random singing videos to selcas ("selfie" in Korean), ARMYs follow @bts_twt to stay updated on BTS comings and goings. BTS, being the generous band that they are (bless their hearts), satisfy their fandom's need for updates by regularly posting on their Twitter account. They post about their pets, their jewelry and each other.
Why is this worth the discussion?
Twitter is another way BTS sets themselves apart from other artists. Most celebrities, like Harry Styles or Lady Gaga, go on Twitter to share photos and videos, advertise their new projects, go on a rampage (We're looking at you, Kanye) or "spill the tea." BTS does some of these but there's none of the drama, more of the fun.
If you're a new fan or a veteran ARMY, here's everything you need to know about @bts_twt.
How Many Followers Does BTS Have on Twitter? And Other Facts
BTS first joined Twitter on July 2011, two years before their big debut. Their first tweet was on December 18, 2012, which marked the official opening of the band's official Twitter account. Old fans will remember the good old days of BTS replying to fans on their tweets.
워썹! 방탄소년단입니다.드디어 방탄소년단 트위터를 공식 오픈하네요~짝짝짝!데뷔 전까지 상상 그 이상의 이상하고 재미난 것들이 업로드됩니다.

— 방탄소년단 (@BTS_twt) December 17, 2012
As BTS grew in the music industry, so did the number of their followers. Currently, the band boasts a follower count of 34 million — and the number still grows as more people discover and fall in love with the band.
On the other side of the spectrum, who is BTS following on Twitter?
The band, like most celebrities, has an exclusive following list composed of 144 Twitter accounts. Their list includes their company BigHit Entertainment (and other brands associated with the company), humanitarian organizations, music awards, their partner brands and their favorite celebrities (some of who've they collaborated with).
@bts_twt has an interesting celeb follower list in return. Check it: they're being followed by James Corden, Jimmy Fallon, Charlie Puth, Halsey, Charlie XCX, Ansel Elgort, John Cena and more.
The Bangtan Charm: Why is BTS So Popular on Twitter?
Twitter was one of the reasons behind BTS' first Billboard Music Award for Top Social Artist. The category is one of the award show's two fan-voted categories. The selection of the winner depends on major fan interactions with music, including social engagement and streaming, together with global online voting results. BTS is the current titleholder, beating Justin Bieber last 2017.
Apart from BTS winning awards due to Twitter, BTS wins hearts on Twitter because of their tweets. Despite not directly replying to fan tweets as they did during their earlier days, BTS amuses their fans with the most random tweets. From their iconic birthday greetings to Kim Namjoon's OOTD days, BTS always has a tweet for everything.
During their earlier days, BTS tweeted stuff most South Korean celebrities would never do. Who could forget Taehyung live-tweeted his first drinking experience? Or when Jin declared war on their company? Even when they started gaining popularity, BTS continued being funny, witty or just downright weird with their Twitter account. Remember when Jungkook and Jimin Facetimed each other while waiting in the same room? This was so funny, there was an entire Reddit post discussing their Tweet.
Moments like these (and more, which will be listed below) make fans want to follow @bts_twt even more. So, if you're not following BTS on Twitter yet, these moments may encourage you to jump into the Twitter fandom.
Iconic BTS Moments on Twitter
Suga Caught in a Lie
Before he was the sleepy "grandpa cat" who loved tangerines, Suga was the fashionista of the band. He had a thing for authentic fashion styles and #OOTDs but he didn't want to admit it. Proof: he posted a photo in April 2015, claiming that V had taken a "candid" photo.
아 뷔한테 도촬당함 ㅡㅡ pic.twitter.com/HoDr4Fok4q

— 방탄소년단 (@BTS_twt) April 3, 2015
Cue in Jimin's Lie. Shortly after, Jimin exposed Suga by posting the photo he took. In it, it shows Suga posing for V.
슈가형 찍고 있는 태태 pic.twitter.com/BKEp09oULK

— 방탄소년단 (@BTS_twt) April 3, 2015
But the fun doesn't end there. Jin joined in the fun and posted the photo of Jimin taking V's photo of taking Suga's picture.
태태찍는 지민이 pic.twitter.com/Rni10d42Nw

— 방탄소년단 (@BTS_twt) April 3, 2015
The thread ended with J-Hope posting a photo of all four taking each other's photos.
뭐야 …. 이분들 …… ㅋㅋㅋ pic.twitter.com/JLFdCldHlZ

— 방탄소년단 (@BTS_twt) April 3, 2015
Jimin Posting the BTS Hawaii Train
After the release of "Bon Voyage 2," Jimin finally posted a behind-the-scenes look of their trip. Here you'll see them amusing themselves in public.
귀요미들
본보야지 !! 봐야지!!!! 🤙 pic.twitter.com/S6r15RLapb

— 방탄소년단 (@BTS_twt) June 27, 2017
J-Hope's Iconic Million Follower Edits
There was once a time when J-Hope celebrated their Twitter's follower milestones. Whenever BTS gained a million followers on Twitter, he would make funny edits of their profile, often decking it with his face.
April Fools Twitter Takeovers
In 2016, BTS messed with their Twitter account by constantly changing their account's layout and handle. Each change was funnier than the last.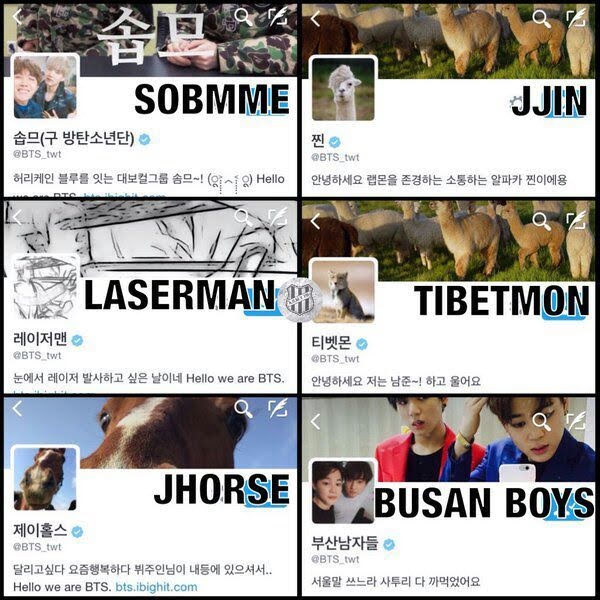 In 2018, they paid tribute to their CEO Bang Si Hyuk on Twitter by changing the layout to his photos.
The list goes on! So, if you want to see more funny tweets, go and follow @bts_twt today!
Bottom Line: BTS is Funny
Twitter is the closest to every ARMY's heart, particularly those who've seen BTS grow their following online. The "bird app" has been pivotal to their strong relationship with fans, which lead to endless awards, nominations and other successes.
So if you haven't followed BTS on Twitter yet, it's about time you do.