To call K-Pop boy band BTS just a success story is an understatement. The musical septet from South Korea boasts of a mega-success story, which includes sold-out stadium tours, chart-topping albums, millions of music video views and a bulletproof ARMY of fans (ARMY being the name of the fandom, too) who are in love with them. And we haven't even talked about the BTS net worth.
After all, with all their success, there's no denying that BTS is raking in millions — if not billions — of cash.
What is BTS' Net Worth? Big Hit Gives Numbers
BTS's net worth shot up in 2020. In October, Big Hit Entertainment, the company that manages the band, brought in massive revenue of $507.9 billion. This skyrocketing figure also marked an increase from Big Hit's mid-year report, which posted revenue of $165.1 million during the first half of 2019. The IPO made Bang Si-Hyuk, Big Hit founder and co-CEO, a billionaire, as well as raised $20 million for the members of BTS.
Big Hit also went public with the cost of each BTS member's share, which is $236 per share per member — twice the initial public offering.
On the whole, Big Hit reported that the company earned six million album sales in 2019 across their bands, which included rookie boy group TOMORROW X TOGETHER (whose debut EP "The Dream Chapter: Star" sold 100,000 copies in three days). With Big Hit's acquisition of Source of Music (home to girl group GFriend), shareholder partnership with PLEDIS Entertainment (the agency of K-Pop superstars NU'EST and Seventeen) and joint label with CJ E&M (Belift), there's no doubt that the company's net worth will continue to soar in the years to come.
But at the heart of it all is still the first band that got them to the top in the first place: BTS.
How BTS Achieved a Massive Net Worth
BTS is currently the biggest boy band in the world, which marks them as the core of Big Hit's financial success. Apart from having all of their albums top the Billboard 200 chart, the band's album Map of the Soul: 7 sold 422,000 units during its first week — setting a chart record in music history.
Music — the writing, production and performance during tours — certainly delivered a revenue stream that made each member wealthier than before.  Their albums are integral to the band and Big Hit's earnings but the endless stream of content also contributes to BTS's net worth.
The tours alone generate a big income. In 2019, BTS's "Love Yourself: Speak Yourself" world tour earned them $77.2 billion from ticket sales alone. The group also live-streamed their Wembley concert via VLIVE. Attendees were charged $28 per viewing.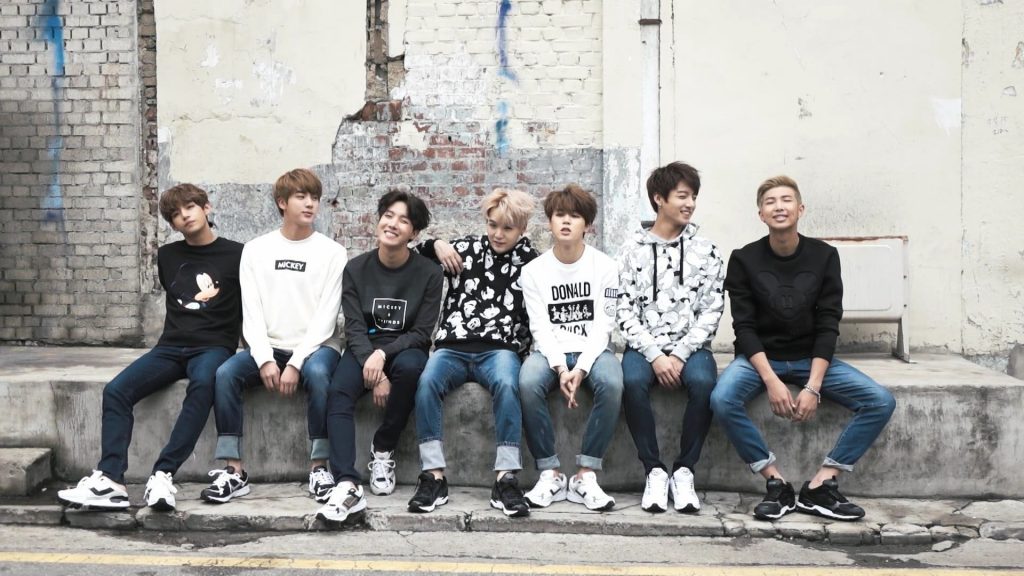 In recent years, BTS has also ventured into other projects that add to their value. For example, in 2018, they release an eight-episode documentary on YouTube premium. "Burn the Stage" featured behind-the-scenes footage of the boys during their "WINGS" concert tour. In late 2018, Big Hit released a movie version of the documentary, calling it "Burn The Stage: The Movie." They have also released multiple films with limited screenings, as well as more docu-series:
"Bring the Soul: The Movie" (this one-day event grossed $11 million globally).
"Bring the Soul: The Docu-Series"
"Love Yourself in Seoul"
BTS also has mobile games making money for them. The mobile game "BTS World" — with its accompanying OST that featured Zara Larsson, Juice WRLD and Charli XCX — ranked first on Apple's App Store in more than 20 countries less than a day after its launch. The gaming company behind "BTS World," Netmarble, was founded by Bang Jun-Hyuk, CEO Bang's cousin. They also released "Superstar BTS," which was a rhythm game that featured all BTS songs. Despite the game shutting down in 2020, Big Hit released another rhythm game in 2021 called "Rhythm Hive," which still featured BTS songs, along with songs from TOMORROW X TOGETHER and ENHYPEN.
Thanks to BTS's endless projects, Big Hit made $86 million in 2020. The band accounted for nearly 90 percent of the company's total sales during the first half of 2020, which means Big Hit heavily depends on BTS's success for better net worth — which is risky.
BTS Impact on the Big Hit Net Worth (And The Rest of South Korea, Actually)
Due to BTS's impact on Big Hit, them leaving is currently not an option. This raises concern about South Korea's compulsory military service for all South Korean men. Kim Seokjin (Jin) is the eldest member at 28 years old (29 years old in Korea). Jin reaching the upper age limit for enlistment caused a stir not just with the fans, but with politicians, too. There were many calls for delays to Jin's and the rest of the band's military service due to their contribution to the economy.
This resulted in South Korea passing the 'BTS Law,' a law that provided exemptions for K-Pop celebrities who received government medals for their cultural contributions locally and globally. Under the new law, BTS's Order of Cultural Merit — which they received in 2018 — gives them the right to apply for postponing their military services until they turn 30.
South Korean lawmakers introduced the bill in September after the global success of BTS's single "Dynamite." The law's passage came days before Jin turned 28 on December 4th.
The band's international success gave South Korea an economic boom. The Hyundai Research Institute's December 2018 report stated that BTS contributes $2.5 billion to the country's economy annually. BTS also contributes $1.12 billion with BTS-related merchandise export. In terms of tourism, the band is also responsible for South Korea's growing number of tourists, as more fans book flights to attend concerts or visit each member's homeland.
BTS Members: Who is The Richest?
Even though each member's skills and talents contribute to the band's overall success, they also make more money individually. Each BTS member has his solo projects, which contribute to his income. Thanks to BTS's net worth, penny pinching is uncommon for these boys (see: Balenciaga and Jung Hoseok). They have enough money to keep up with lifestyle trends, buy houses and more.
Here's how each member makes money and how much he's worth (can you guess which BTS member had the highest net worth in 2018?):
Kim Namjoon (RM) Net Worth
The leader of the band, RM is credited for being the foundation of BTS. Thanks to his leadership, he managed to keep the group going, despite the countless accusations of plagiarism and bashing. As a result, RM is enjoying the financial gain of being a member of BTS, as well as income from his solo projects. RM earns money from writing songs and collaborating with other artists (e.g. Lil Nas, Wale and Youngha). Currently, he has writing credits on more than 130 songs. RM's net worth is about $20 million.
Kim Seokjin (Jin) Net Worth
The eldest member also makes his money off writing and producing credits on some of BTS's albums, apart from the tours and music releases. He also collaborated with bandmate Kim Taehyung on a song for "Hwarang: The Poet Warrior Youth." Jin's love for food translated into his business ventures, too. He opened a Japanese-style eatery in South Korea with his brother. Jin's net worth is about $20 million.
Min Yoongi (SUGA) Net Worth
Suga's net worth also sits at $20 million. Similar to RM, he also receives payment for producing, writing and performing music for BTS, as well as composing and collaborating with other artists, like Lee So-ra, Suran, IU and MAX. His writing and producing credit number sits at 70. In May 2020, Suga released his second mixtape under the name Agust D, D-2.
Jung Hoseok (J-Hope) Net Worth
Currently, J-Hope has the same net worth as his bandmates ($20 million) but in 2018, he was the highest-paid member in BTS due to his net worth of $12 million (the other members were worth $8 million). In addition to his songwriting, producing and performing credits from BTS, he also produced his first mixtape "Hope World," which shot his net worth above his bandmates'. J-Hope also makes money from his collaborations like "Chicken Noodle Soup" with Becky G.
Park Jimin Net Worth
How much is Jimin's worth? The resident mochi is worth $20 million. The formally trained dancer's income comes from BTS's projects, as well as his appearances on TV shows like "Hello Counselor."
Kim Taehyung (V) Net Worth
V's net worth of $20 million is from his music releases with BTS, his songwriting and producing credits and his collaborations for drama OSTs. In 2016, he branched into acting by being part of "Hwarang: The Poet Warrior Youth."
Jeon Jungkook Net Worth
Like the rest of his bandmates, Jungkook shares producing credits on some of the band's music. He produced "Magic Shop" and "Love Is Not Over." He also appeared on a variety of TV shows like "Celebrity Bromance" and "Flower Crew."
Thanks to their massive net worth, BTS pays off for their hard work by splurging on expensive purchases. Apart from their high-end fashion statements, BTS has also invested in their properties. Even though they still live in a dorm, some members have purchased their own apartments. Suga spent $3 million on his apartment whereas J-Hope, Jin and Jungkook spent $1.6 to $1.7 million on their flats.
BTS is the very definition of "Started from the bottom now the whole team here." Thanks to their creativity, dedication and strong relationship with their fans, BTS is enjoying an eye-popping net worth that is truly well-deserved.