We know how hard it is to try to maintain a particular form while doing your fitness routines, especially if you find yourself slipping and sliding from a puddle of sweat as you move around. We also know how dreadful it must have felt to see your gym equipment moving and gliding on the floor. If you often experience these events, we highly recommend you buy some gym mats.
Gym mats are a variety of flooring solutions that are beneficial in avoiding injuries brought about by unnecessary slip-ups during your routines and keeping your fitness equipment in place.
How it Works
Gym mats are laid out against the exercise surface to help you get better traction throughout your routine. A better grip allows you to perform floor-based strength training activities and yoga and Pilates with maximum safety and comfort. It is also used to provide safe footing as well as protection from intense impact injuries.
Types of Gym Mats
We have narrowed down some of the most common gym mats and the corresponding fitness programs suggested for their use. You can look at this brief overview as a guide in finding the gym mat that suits your needs.
Fitness Mats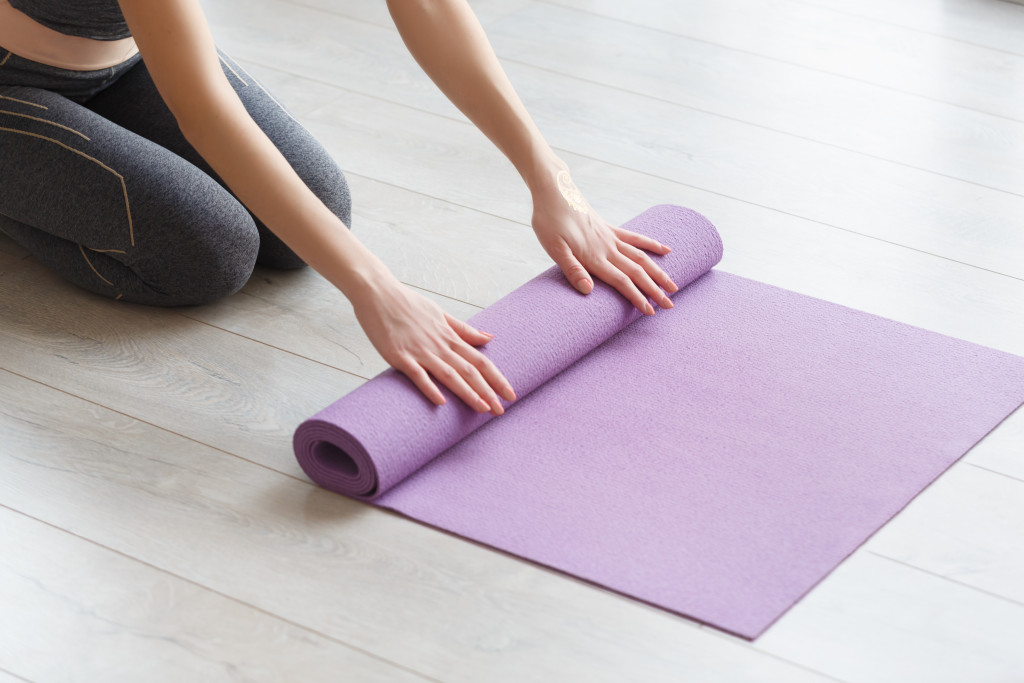 These mats are the most popular type of gym mat because of the variety of exercises you can do with them, such as crunches, bends, and stretches. These mats are slightly more durable because of their vinyl cover, withstand significant impacts, and provide enough cushion throughout your routine. Fitness mats are made from high-performance foams, which are incredible in absorbing sweat and easy to clean.
Foam Mats
Sometimes called puzzle mats, foam mats have linking edges that can go together without difficulty and are easily disassembled and stored if not in use. These floor covers are the perfect option if you want to have an extra layer of protection during your exercises but do not have enough space. You can often see these mats in numerous settings such as martial arts classes, home gyms, schools, and daycare centers.
Floor Protectors
These are installed and fixed mats used to protect your floors from undesirable damages from your fitness equipment. They are non-porous and textured, which keeps the gym equipment in place, mainly when being used. This type of mat is an excellent choice if you need your floor to remain protected from dropped equipment, heavy loads, and many more.
Benefits of Using a Gym Mat
Other than preventing unnecessary injuries due to slip-ups, there are many more advantages that can be brought by having your floor protected. If you're still not convinced, we have listed down the following benefits you can get from using gym mats:
Easy and Convenient
They are not complicated and do not require too much effort to get into place. You would not need any technical assistance as you can adequately install gym mats by yourself. Some gym mats can easily store and be rolled up and set aside until required if not in use.
Practical, Durable, and Do Not Require Any Upkeep
Gym mats are made to last a lifetime. Moreover, you do not have to spend more on high-end maintenance services as you can easily ask your favorite dry cleaner to wash it. Gym mats are also water-resistant and sturdy enough so that they will be fine even without thorough cleaning.
Maintain Cleanliness and Hygiene
The occurrence of having sweat puddles is avoided because the foams readily absorb any excess liquids. Gym mats provide a comfortable environment because of their protection instead of performing exercises directly on the floor surface. Having a personal gym mat adds to hygiene control as you'll be able to have your personal space, which provides separation around your workout area.
Protection from Injuries
The materials used on gym mats are often high-grade. They have shock-absorbing features, helping them withstand extreme pressure coming from falling gym equipment and lively activities such as high-intensity interval training. Most gym mats are made with rubber which is non-slip and can reduce the occurrence of slipping and falling accidents.
Wrapping Up
Gym mats are often long-lasting and specially designed to meet the expected quality standards to provide the needed safety and guaranteed support and comfort. It is often used at different fitness centers, home gyms, sports facilities, and schools.
If you are interested in having an extra layer of protection during your exercise routines, gym mats are the perfect addition to your gym essentials. You can enjoy a clean, comfortable, and safe fitness journey while you get the most out of your routine without having to worry about the risk of getting injured.