Selecting the right recreational activity wear is all about considering comfort, protection from the elements, and style.
Look for lightweight clothing that offers maximum comfort and safety when participating in any type of physical activity.
Choose pieces that reflect your style and are versatile enough to be used in multiple activities.
Popular types of recreational activity wear include athletic tops and bottoms, swimwear, sandals, and sun hats.
Looking for the perfect outfit to wear while you're out enjoying your favorite recreational activity? It's important to understand that what you decide to wear can determine how comfortable and stylish your experience will be.
Whether it's playing basketball with friends, going for a hike in the woods, or relaxing under a beach umbrella—there is an ideal outfit that is right for each activity!
This blog post provides all fashionable readers helpful tips on choosing the perfect recreational activity wear.
Considerations for Choosing the Right Activity Wear
When selecting the right type of recreational activity wear, there are a few important factors to consider. These include:
Comfort and Durability
Comfort is essential when engaging in any type of physical activity. Look for breathable, lightweight clothing that allows your skin to move freely—such as spandex or nylon. Durability is also important since these activities often involve lots of movement and contact with the ground.
Protection From the Elements
Depending on where you are participating in the activity, you may need to consider protection from extreme temperatures, wind, or even rain. Look for fabrics that provide UPF (ultra-violet protection factor) so that you can stay safe from harmful UV rays. Layering is another great way to protect yourself from harsh weather conditions by allowing you to easily add or remove layers as needed.
Style
Recreational activities can be a great opportunity to express your unique style! Look for clothing that is reflective of your personality and makes you feel confident and comfortable.
For example, if you're an active person who loves the outdoors, opt for a colorful pair of running shorts and a T-shirt. Or if you're more of a fashionista, why not try a stylish pair of yoga pants with a loose tank top?
Versatility
When picking out activity wear, look for items that can be used in multiple activities, such as athletic shorts, tank tops, or t-shirts.
This will save you money by reducing the number of items you need to purchase, and it's also convenient when it comes to packing light!
Appropriateness for Weather Conditions and Intended Activity
It's important to consider weather conditions when selecting recreational wear for your next outing. Hot weather requires light and breathable clothing that won't become too uncomfortable when temperatures hit an all-time high.
For example, simple women's swimwear is the perfect choice for hot days by the pool or beach. Not only are they lightweight, but they also allow you to move freely while still providing a stylish option.
On the other hand, if you're heading out on a cooler day, it's best to choose something warm and durable that can withstand rainy weather. Don't forget to consider the weather in your area when selecting—it pays off to be weather-wise!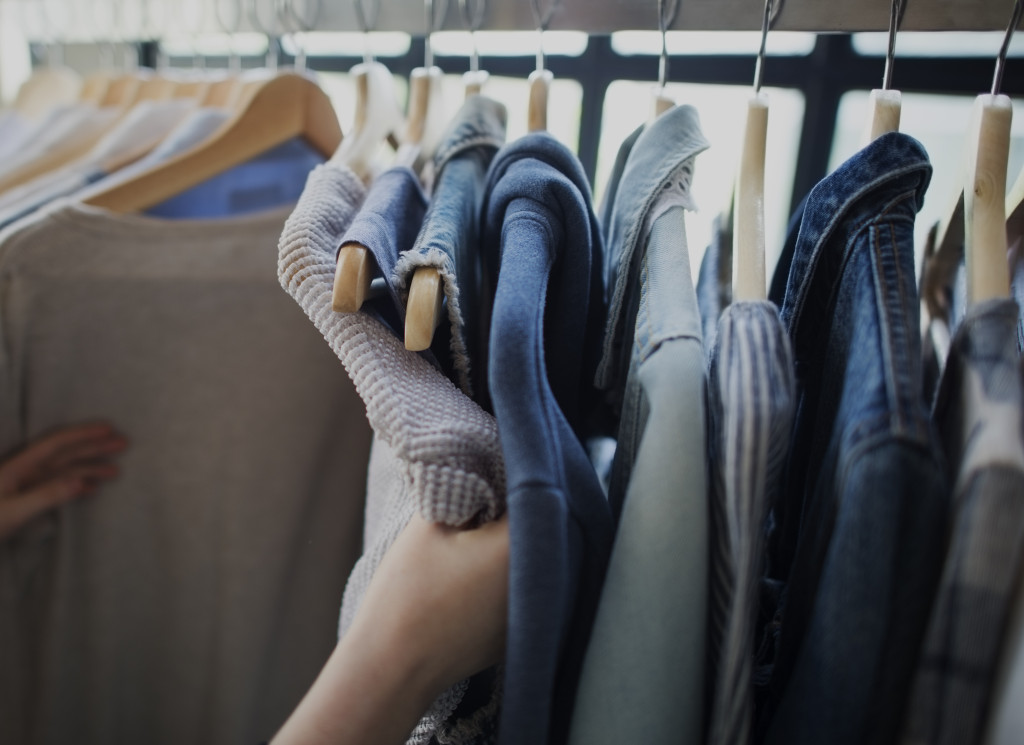 Popular Types of Recreational Clothing
When it comes to finding the perfect recreational activity wear, a few key pieces can help you stay comfortable and stylish throughout the day. Here are some of the most popular types of apparel to look out for:
Athletic tops and bottoms: These pieces offer maximum comfort and flexibility while still providing style. Look for breathable fabrics such as spandex or nylon to keep you cool and comfortable.
Swimwear: Whether it's a day by the beach or a pool party, swimwear is an absolute must for all recreational activities! Find lightweight, durable pieces that offer UPF protection to keep your skin safe from the sun's harmful rays.
Sandals: The perfect way to keep your feet comfortable, sandals provide the ideal combination of lightweight and breathability while still protecting your toes.
Sun hats: When spending extended time outdoors, it's important to protect your skin from the sun's rays. Look for wide-brimmed hats that offer UPF protection and also keep you cool.
Other Common Examples of Recreational Wear
Compression wear
Sports bras
Board shorts
Hiking pants
Windbreakers and jackets
Sweatpants or track pants
Choosing the perfect recreational activity wear is all about choosing clothes that are comfortable and appropriate for the intended activity. Utilizing these tips can provide you with a great start on selecting apparel that will keep you feeling confident and looking your best while enjoying your favorite activities!
No matter what type of recreational activity you're engaging in, always remember to consider comfort, protection from the elements, and style when selecting your outfit. You can look and feel great with the right clothing while having a fun-filled day!