Most people are still stuck in their homes despite vaccines being rolled out in many states this year. This might be the norm, at least until everyone gets vaccinated. So people are finding new ways to entertain themselves, and one of them is redecorating their homes.
Many Americans have realized that they can start doing projects they've wanted to do before the pandemic. Because of this, redecoration and renovations are happening all over the US ever since quarantine protocols have been eased. There was a spike in renovation work last year, and it's still increasing this year. Many are looking to spice up their homes and change the way they live. Here are some ways you can do this without spending too much money.
Repurpose Items
You can spice up your home by recycling old items and giving them a new look. That's right; this is an environmentally-friendly and creative way to give life back to old items. For example, many American families have an excess of pencil boxes used by their children for school. Eventually, these children grow up and have no use for these pencil boxes. You can do with these boxes to redecorate them and use them as a makeshift holder for makeup or a container for brushes.
Another item you can always repurpose is glass jars. They have so many uses for your home. You can use them for drinking, or you can use them for your plants. These glass jars can give your home a rustic feel and helps you save money because you don't need to buy actual mugs anymore. Wine bottles can also be repurposed.
Build A Pallet Wall
A pallet wall is an easy DIY project that anybody can do. It can spice up the interior design of a particular room without the hassle or the contractor's expense. It's a cheap alternative to wooden walls. You can do this project over a weekend with cheap materials you can find almost anywhere.
You can find wooden pallets in retail stores, bars, or even supermarkets. Some of these shops may even give it to you for free. This material is incredibly cheap because many people are looking to get rid of it. The few other things you're going to need for this project are a saw, construction glue, and some paint. All of which are available in your nearest hardware store.
Once you've gotten these materials, measure the space of the wall you will be building your pallet wall on. Then it's time to saw the pallets to their appropriate size. Once you've done this, you can then use construction glue to stick them to the wall. After that, you have to paint the pallets to the color you want, and then you're done! It's simple and easy to do.
Adorning Walls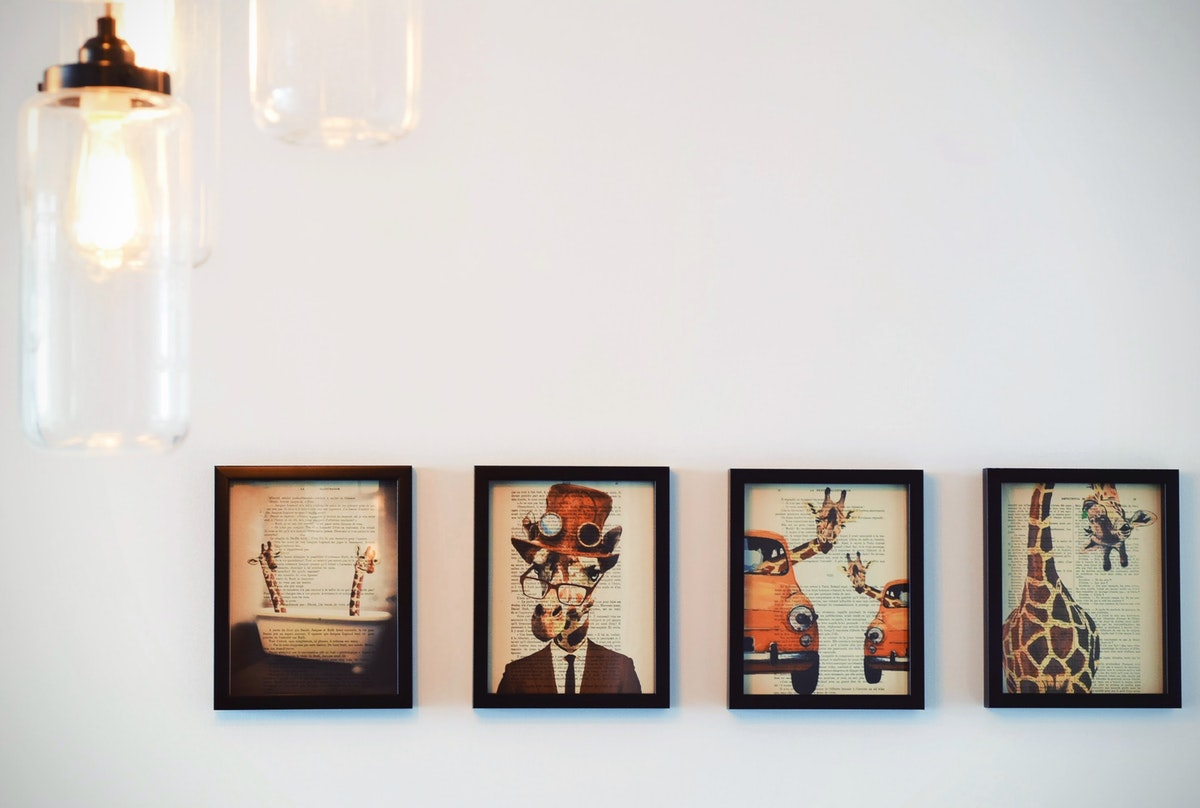 You might have a couple of photos lying around your home. Some of them might be in old photo books that you never get the chance to show people. Well, worry not. Your walls are the best place to put these photos and their respective frames.
So for this project, you won't need a lot of things, just a couple of pictures and frames. There are many ways you can adorn these frames with your walls. One way is to give them that good old-fashioned look using a nail to hang them on the wall. You can also nail the frames into the wall, as some frames can support this. Lastly, you can use construction glue to stick them into the wall. Be careful doing this, though, because once you've glued them in, you can't take them out anymore without excessive force.
Paint Your Walls With A New Color (Or Use Wallpaper)
If you don't feel like showing off your pictures, then you can always paint your walls or use wallpaper to give them a new look.
Chances are, the walls in your home haven't been redecorated for quite some time. Some parts of the wall might have been chipped or worse. By painting these walls, you can cover these damages while also giving them a fresh new look. If you don't feel like painting, then you can always use wallpaper to redecorate your walls. This particular redecorating project is going to cost you less than a hundred bucks. It's also only going to take half a day to accomplish.
These are some cheap and inexpensive ways to redecorate your home. You don't need to pay or hire a fancy contractor for these redecoration projects. You can also do these projects all in one weekend. So what are you waiting for? Spice up your home with these projects!