There's no denying how the COVID-19 crisis has brought the world to a standstill. At the onset of the pandemic, authorities forced individuals and families to stay at home to curb the spread of the novel coronavirus. Almost two years after, many people worldwide have gotten themselves vaccinated. Now, they have started going outdoors. It seems that the whole world is gradually going back to normal.
But while the pandemic isn't over yet, individuals and families should continue to stay indoors and be wary of going outdoors. Complying with the health and safety protocols and promoting health and well-being is still the name of the game. While at it, continue to engage in worthwhile and productive activities within your residential property.
That said, here are some home lifestyle tips for you and your family during this pandemic:
1. E-commerce Business
More than half of the businesses that went on temporary hiatus at the onset of the pandemic had eventually closed for good. But thanks to digital tools and technologies, the e-commerce sector has thrived amid the crisis. If you're an aspiring entrepreneur, it's never too late to launch your online store. If you already have a physical store, consider transitioning to a click-and-mortar business. While the pandemic is here to stay, it's a good idea to spend most of your time doing business online.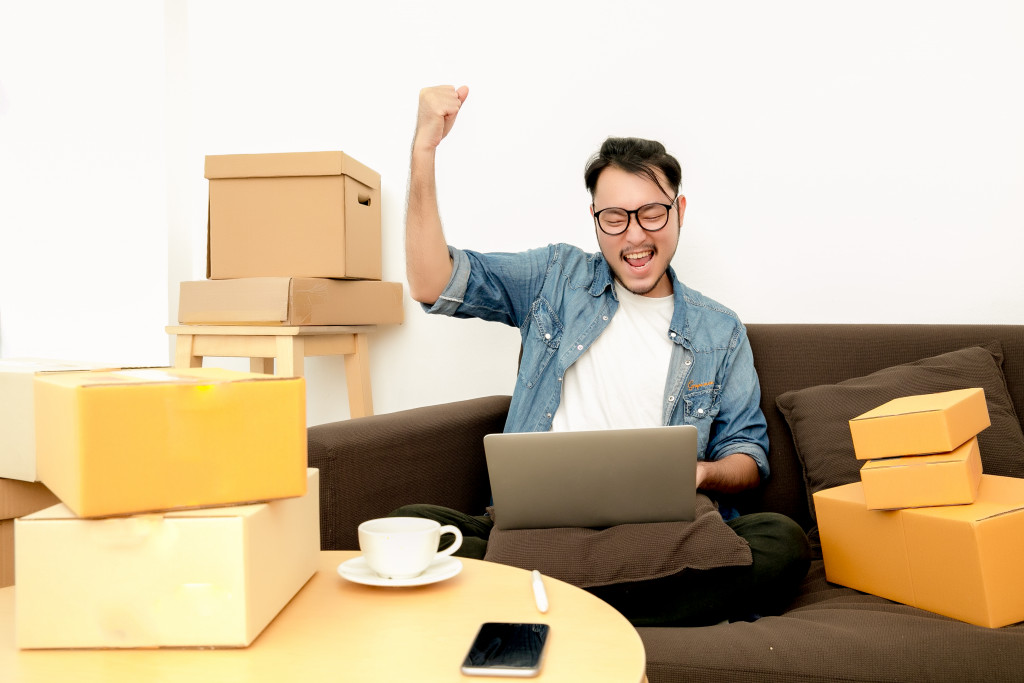 2. Making Handmade Products
Making arts and crafts can be fun and exciting, especially during this pandemic. For one, it can keep you busy and preoccupied. It can also boost your imagination and creativity. Lastly, you can turn arts and crafts into products and sell them to make money. Examples of handmade products to consider include accessories, home decors, bath products, decorative candles, and paper goods.
3. Home Workout
As a fitness enthusiast, the pandemic restrictions have become a headache to you. You have most likely compromised your physical fitness and healthy living. But did you know that the pandemic has led to the rise of home gyms? Yes, you can look for a dedicated space at home for your workout, invest in tools and equipment, and perform exercises. If not, you can try body workouts or calisthenics. In the end, the pandemic doesn't have to stop you from being physically fit and healthy.
4. Yoga and Meditation
If you aren't into strength training and extensive workout, you can venture into yoga and meditation during this pandemic. Not only are they good for your physical health, but they are also best for your mental wellness and overall well-being. Yes, they encompass the idea of stretching and breathing exercises. They are about finding peace, calmness, and a sense of balance. Ultimately, it's best to incorporate these practices into your home lifestyle.
5. Beauty and Wellness Care
Self-care has become a buzzword during this pandemic. As such, it must be a part of your home lifestyle. On top of this is promoting beauty and wellness. But with the pandemic protocols, you'll find it hard to visit your favorite salon or wellness retreat center. For this reason, self-pampering is the key. For instance, turn your bathroom into a spa or invest in massage tools and equipment.
6. Pet Adoption and Care
If you are a pet lover, it's a good idea to adopt more animals and pursue pet care during this pandemic. It's nice to have furry members of your family, such as different breeds of dogs. You can feed them, bathe them, groom them, walk them around, play with them, and even send them to dog training classes. You can also consider adopting cats, hamsters, birds, and a school of fish. But while you take care of pets, they will take good care of you too. In fact, National Geographic claimed that pets help individuals and families cope with the pandemic.
7. Home Improvement Projects
Many households and families have pursued home improvement projects during the pandemic. While some have had a complete home renovation, others have had a partial house remodeling. Some homeowners have tackled tradesman works and exterior updates. Others have pursued outdoor landscaping, lawn care, and home gardening. As such, consider carrying out home improvement projects during this pandemic.
At this point, you now know what house activities to pursue during this pandemic. Consider the home lifestyle tips recommended above, from e-commerce business to beauty and wellness care to home improvement projects.
Remember that the COVID-19 crisis doesn't have to stop you from pursuing your lifestyle in the comfort of your home. It's just a matter of knowing your lines of interest and making necessary adjustments. With these house activities, your family will rise above this pandemic.