Research pet-friendly destinations before embarking on your travel adventure.
Prepare your pet for travel, such as acclimating them to their travel carrier and ensuring vaccinations are up to date.
Pack essential items for your furbaby, including food, treats, medications, bowls, toys and blankets.
Ensure safe and comfortable transportation by securing pets in a well-ventilated carrier or safety harness.
When making reservations, choose accommodations that cater to pets' needs by asking about specific pet policies.
Traveling with your furbaby can be an exciting and rewarding experience. Whether planning a weekend getaway or a long vacation, bringing your beloved pet along can add a layer of joy to your journey. However, preparing and planning to ensure a smooth and enjoyable trip for you and your furry companion is important. This guide will provide five valuable tips for traveling with your furbaby, covering essential aspects such as transportation, accommodations, safety, and more. So, grab a pen and paper, and start creating unforgettable memories with your pet!
1. Research Pet-Friendly Destinations
When planning to travel with your furbaby, researching pet-friendly destinations is an important first step. Traveling to the best pet-friendly beaches can be a great way to spend quality time with your four-legged friend. Pet-friendly beaches can also offer a wide array of activities for you and your pet, such as swimming, walking trails, camping, and more. Additionally, many beach resorts offer special pet amenities, including pet-sitting services and luxury suites designed with your furry friend in mind. Be sure to research the local laws and regulations regarding pets before planning your
2. Prepare Your Pet for Travel
Traveling can be stressful for pets, so preparing them ahead of time is essential. Start by ensuring your pet is up to date with vaccinations and has a clean bill of health from your veterinarian. If your pet suffers from anxiety or motion sickness, consult your veterinarian for possible solutions, such as calming medications or natural remedies. It's also crucial to acclimate your pet to their travel carrier or crate before the trip, making it a familiar and comfortable space. Gradually introduce short trips in the carrier, rewarding your pet with treats and positive reinforcement to help them associate it with positive experiences.
3. Pack Pet Essentials
Just like you, your furbaby requires its own travel essentials. Pack enough food, treats, and medications for your trip, plus a few extra days for unforeseen delays. Remember to bring portable food and water bowls and waste bags for cleaning up after your pet. Pack your pet's favorite toys, blankets, or bedding to provide familiarity and comfort during the journey. If you're traveling to a warm destination, don't forget to pack sunscreen formulated for pets and protective gear like booties to shield their paws from hot surfaces.
Here are the benefits of packing pet essentials:
Keeps Your Pet Safe and Comfortable
Pack the essentials to ensure your pet's safety and comfort when traveling. Ensure you have enough food, treats, medications, and water for your trip. Your packing list and waste bags for cleanup should include portable food and water bowls. Pack their favorite toys, blankets or bedding to provide a sense of familiarity during the journey. If you're going to a warm destination, don't forget sunscreen formulated for pets and protective gear such as booties to protect their paws from hot surfaces.
Avoids Unnecessary Stress on Your Pet
Having the right supplies can help minimize stress levels on your furry companion during travel trips. Bring items such as their favorite toys, blankets or bedding so that they can feel more at home in unfamiliar surroundings. If your pet is prone to motion sickness, make sure to bring along medications or remedies that will help prevent the occurrence of unwanted symptoms.
Avoids Unnecessary Expenses
By bringing along all of the necessary supplies for your pet, you can avoid spending extra money on buying these items once you reach your destination. Additionally, having all the required medications and other travel essentials on hand can help reduce veterinary costs in case of any medical emergencies incurred during the trip.
Enjoys a Worry-Free Trip
Whether you're jetting off for a weekend getaway or embarking on a longer vacation, having the right pet supplies will help ensure your pet is cared for throughout the journey. This way, you can focus on enjoying your time away without worrying about whether or not your furry friend has everything they need for a safe and comfortable trip.
4. Ensure Safe and Comfortable Transportation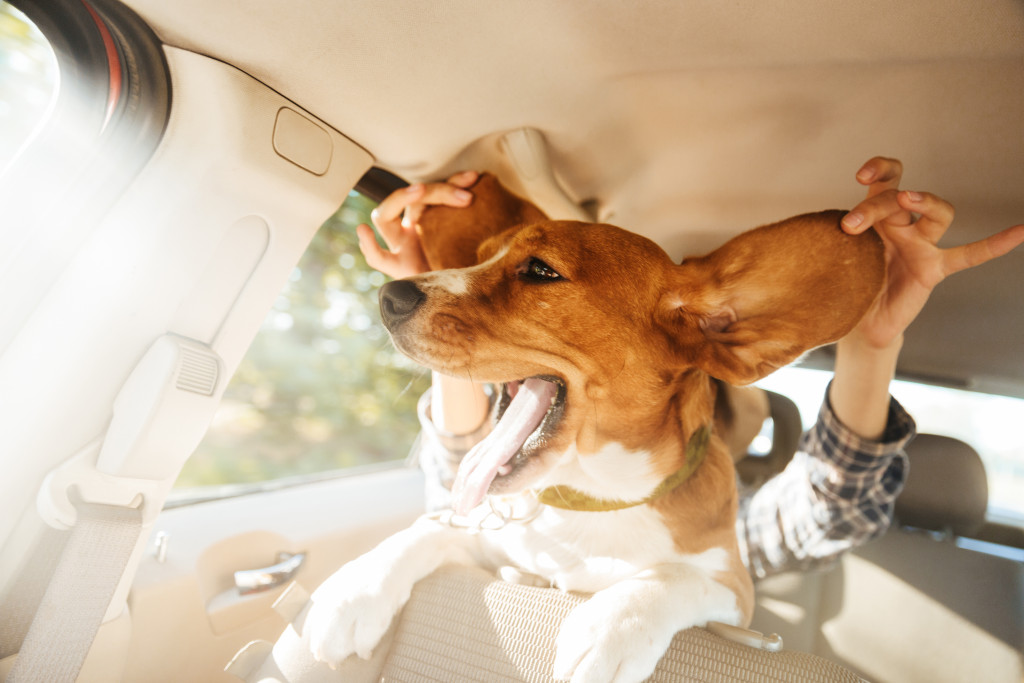 Whether you're traveling by car, plane, or other means of transportation, your pet's safety and comfort should be a top priority. If you're driving, secure your pet in a well-ventilated carrier or a safety harness designed for pets. Avoid leaving your pet alone in a parked car, as temperatures can rise quickly and lead to heatstroke. If you're traveling by air, research the specific airline's pet policies and requirements for traveling in-cabin or in the cargo hold. Each airline has its rules and restrictions, so it's crucial to plan accordingly and make reservations in advance.
5. Choose Pet-Friendly Accommodations
When booking accommodations, opt for pet-friendly hotels, vacation rentals, or campgrounds that cater to pets' needs. Many hotels have specific pet policies, such as weight limits, breed restrictions, or additional fees, so be sure to inquire about these details when making reservations. Some accommodations may even offer special pet amenities, such as pet beds, food bowls, or access to nearby pet-friendly parks. Remember that even in pet-friendly establishments, certain areas may be off-limits to pets, so always respect the rules and clean up after your pet to maintain a positive relationship between travelers and pet owners.
In Summary
Traveling with your furbaby can be a delightful experience if you plan ahead and take the necessary precautions. Research pet-friendly destinations, prepare your pet for travel, pack their essentials, ensure safe transportation, and choose accommodations that cater to pets. By following these five tips, you'll be well on your way to creating lasting memories with your furry friend while exploring the world together. So, pack your bags, double-check your pet's leash and collar, and embark on an unforgettable adventure with your beloved furbaby!